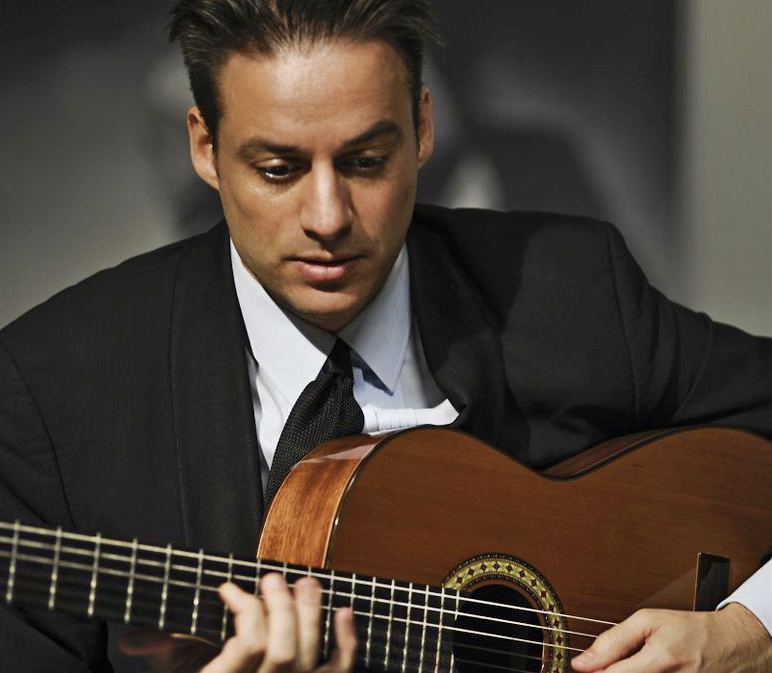 You are listening to "looking out for peace" by Andre Krengel -thanks to Peter Fessler for providing his beautiful guitar for this recording!
For Andre Krengel, who was born in a small village outside Bonn, Germany, playing guitar is a journey; and music is a language that connects us to people without words.
He is a versatile and virtuosic guitar player who is mainly self taught, with his own unique style of playing, and is one of the foremost, leading and prominent players in Germany. His parents loved classical music. So, as a child, he became influenced by the many recordings played at home of composers like J.S. Bach.
But he became inspired by other artists as well – especially by the jazzy blues-rock stylings of Mark Knopfler & Dire Straits. Through that inspiration, at the age of 14, he was drawn to pick up his mother's acoustic guitar and start learning chords and melodies.
At the age of 15, the circumstances in his life suddenly changed, and he was more or less on his own. At this time, the guitar became very important; because playing music on the instrument had a stabilizing and comforting impact on his life…. He quickly reached a good technical level; and at the age of 17, he started gigging with local bands – playing Blues, 70&80 Rock and Neo Classical Hard Rock. Two years later, he discovered his passion for acoustic guitar and jazz music. He took jazz guitar lessons from Gregor Salz and started studying jazz & Pop music at the conservatory of Arnhem in the Netherlands. To make a living, he also was giving guitar lessons at a music school… But just teaching and studying soon became boring. So, he quit, and started to travel, playing his first international gigs and small concerts in Spain and the South France, together with his friend, Roland Krause.(At this time, traveling meant mostly hitchhiking)
In Barcelona, Andre performed with artists like Monica Green (ex- Surpremes), Marcello Matte and rock-vocalist Danny Veras . Living in Spain, Andre took the chance to play with flamenco players and learn from them. It was also in Barcelona when he got inspired by playing and learning Gypsy-jazz together with two masters of this style: Robin Nolan and Biel Ballester.
Andre also spent two years in Miami & Florida, touring with the Ft. Lauderdale based band "The Orphans". During that time, he was inspired and influenced by numerous jam sessions with musicians on the Miami latin & cuban music-scene, as well as by performing with Leon Wilkinson & the new line up of Lynnard Skynnard, in Jacksonville. All of these influences – jazz, flamenco, gypsy-jazz, rhythm and blues and good old fashioned rock and roll – are woven into his unique style.Andre was probably the first player, imitating electronic effects like delay on acoustic guitar, just by playing handmade dynamics.He already played the Trance song on "Children " by Robert Miles on acoustic guitar, using these trademarks in the early 90ths, before the times of youtube and internet!
Since returning to Germany, Andre has been involved in many different projects. He was frequently asked to back up singers in concerts and TV -Shows – like Rod Stewart and Gloria Gaynor, Deidra Jones as well as several German-based artists. He's also been known to play on 5 star cruise ships and in elite private galas & incentives all over Europe.Since 2004 Andre Krengel is part of the virtuos guitar trio "passion grace and fire" featuring Rafael Cortes and Özkan Yalkinouglu, a tribute to "Friday Night in San Franzisco" playing Songs of the great Album from John Mc Laughlin, Paco de Lucia and Aldi Meola, as well, as original tunes.Andre is also playing with Sina Nossa, a seven – piece Fado & Worldmusic – ensemble, which has just won the "Creole" Award for world music.
He was also guitar player and Musical Director of the famous clown, Andrej Jigalov's show-band as well as for the German-Brazilian pop singer Daniel Lopes and besides he was working with other Singers from TV-casting shows like "the voice of germany" , "X-Factor", "die deutsche Stimme", "Star Search", "the winner takes it all" and "DSDS".He also composed several pieces of music for other artists and TV commercials, short movies and played on many CDs beeing a studio guitarist… 2005 founded his own band "Acoustic Embassy" which now tours widely throughout Europe. This band integrates a wide range of sounds, based on moods of Latin, Pop, Jazz and Flamenco, to Django Reinhardt`s Swing and even unplugged Techno.
2007 Andre Krengel won the Culture Award for Music & Composing in Düsseldorf.
After that he released his first solo album " head ,heart & hands" with the Andre Krengel Acoustic embassy, which got highly praised by the music media and went "album of week" at the NDR-Rundfunk.In this time he was working closely together with his friend, the great flute player Domingo Patricio ( played with Paco de Lucia, Mike Stern, Vicente Amigo, Marc Ledford)
 In 2013 the Lulo Reinhardt & Andre Krengel Quartett was founded and their first album "live@Neidecks2" (this CD  also went "album  of the week" at the NDR "Play Jazz" broadcast (Lulo Reinhardt is one of the foremost authentic and distinctive musical voices in Gypsy music today, he is from a long line of musicians; the great-nephew of jazz legend Django Reinhardt and also the nephew of the gypsy violin master Schnuckenack Reinhardt.)Until today this quartett went touring in Germany, England, Scotland, Bulgaria and Moldova.
2015 / 2016 Andre Krengel got invited to the International Guitar Night Tour organized by Brian Gore, which is considered to be the most important showcase of acoustic guitar, worldwide.In twenty years, Andre was the third player from germany, being invited to this tour (among Peter Finger & Lulo Reinhardt ) Together with three of the foremost international guitar players Andre played more than a 100 Concerts in USA, CANADA, UK (about 70 Concerts ) and also in Germany, Italy, Austria and Poland where this show was named "Nacht der Gitarren". In Usa & Canada the audience of philharmonic rooms and performing art centers, each night having an audience from 800 up to 3000 people!One of the fellow guitar players on that tour, was the fingerstyle-pioneer and guitar player for the "moody blues band", Mike Dawes from England.2017 Andre teamed up with Mike, creating a show in germany together: "Gipfeltreffen der akustischen Gitarre" All concerts of this little tour were completely sold out.
Also in 2017 Andre "by accident" met the indian Sarod Master Pandit Ranajit Sengupta, while riding on the train to south germany…Ranajit just played a TV-show in Amsterdam, together with the bass legend Marcus Miller.On the train, they changed Cds and shortly after, Pandit Ranajit Sengupta invited Andre to Kolkata,( India ) to learn about indian raga music and indian culture.After weeks of intense playing together, they decided to work on musical project together, with Kousik Banerjee & Sanjay Kansa Banik ( both Tabla) and they recorded a CD together and played at the open air concert series "live at lakes" organized by the guitar society of kolkata.Back in germany, they were already invited to play at the Embassy of India in Berlin, the "fete de la musique "- Hannover and a few other theater concert in germany.The CD will be released 2018 in germany and India.
Since June 2017 Andre is playing again with Roland Krause (they went traveling together, before Andre´s professional Career started), as the RAZ-DUO.With their new program "Travels" they are presenting their compositions and stories of being on the road.Andre managed also to take this project to a higher level: The Duo is just back from touring the UK (16 Concerts ) and they were for example headlining the opening Concert evening of the famous Ullapool Guitar Festival.As a direct Feedback of touring, they got invited to play at the fringe festival 2018 in Edinburgh and touring the UK again in October 2018.After their Concert in Edinburgh, the famous painter Maria Rud offered to Andre & Roland to be part of the great Ani Motion Show, along with the YES -keybord player, Rick Wakeman among others, to create an exciting life performance, combining painting, architecture and music!
Andre´s new album "beneath the words" is about being published soon.For him its a dream come true: With his own composition and his blend of different styles, like latin, jazz, flamenco, gipsy-swing, oriental and indian moods & Ambient and Soul, Pop, Funky, even Rock elements, he is telling his story and journey of life.It is world music at its best: Thirty musicians from all over the world, including exotic instruments, string orchestra are part of this colorful album. The Album "beneath the words" features musicians of different genres: the legendary Bass Player Carles Benavent (played with Paco de Lucia, Chick Corea, Miles Davis & Quincy Jones) , amazing Flutist Domingo Patricio, the iraki Oud player and singer Beshar Al Azzawi, the italien singer Angela Caran, the russian Cello player Boris Matchin, the Bass Ukulele player Jonty Bankes from the Ukulele Orchestra of Great Britain, the Jazz Violin player Christoph König, the Ney and Duduk Player Murat Cakmaz and many more…
The press named Andre Krengel a "Traveler between Cultures " because he can virtuously switch between styles and cultures without loosing his identity and unique style…
His virtuosity and versality, together with his musical sense to dynamics and soft sounds, made the german press also call him "the Guitar Wizzard with magic hands".
Until today Andre has performed gigs & concerts in Germany, USA,Canada, India, Ukraine, UK-(England, Scotland, Ireland), Poland, Belgium, Turkey, Bulgaria, Moldova, Austria, Switzerland,France, Croatia, Greece, Portugal, Spain, Italy,  Sweden, Madeira, Malta,Tenerife, Luxenburg,Slovakia, Tschech Republic, Latvia, Netherlands and Maledives.